DCE
Public / media
Networked Environmental Monitoring – from sensor principles to novel services
High-end seminar on air pollution meteorology, monitoring and technology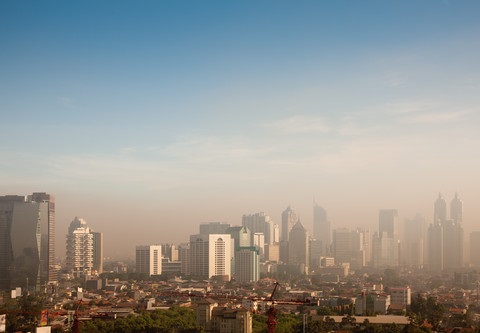 Environmental monitoring today is based on fixed measurement stations containing sophisticated analytical equipment to achieve a high data quality.
However, due to the high cost for investment and maintenance only a limited number of pollutants (typ. CO, NOx, SO2, ozone, PM10, PM2.5, BTX, tVOC) are monitored at very few locations. Furthermore, not only is the spatial resolution limited but temporal resolution is coarse, with measurements typically providing hourly values at best.
Thus, the fundamental information available on air quality (AQ) today does not meet the needs of many citizens or the requirements of advanced environmental information (EI) services and city infrastructure management.
This is why Aarhus University in cooperation with Universität des Saarlandes, Aristotle University of Thessaloniki, AMA - Verband für Sensorik + Messtechnik and others are hosting an internationale traning course "Networked Environmental Monitoring – from sensor principles to novel services" on February 21.-23. 2017 in Copenhagen.
The current status does not reflect the increasing needs for well monitored 'smart cities', requiring e.g. real-time traffic management, identification of clean 'green' areas and routes in cities, specific information for children, elderly or citizens affected by certain pollutants or allergens, temporal air quality profiles for optimisation of ventilation strategies for improved indoor air quality, and, last but not least, for educating citizens about their local environment and the impact of their everyday life habits to their quality of life.
Novel low-cost sensor technologies are poised to support a paradigm shift by allowing ubiquitous ambient pollution monitoring with high spatio-temporal resolution available at every person´s fingertips – either through environmental information websites backed by stationary and mobile sensor networks or quite literally with sensor technology being integrated into mobile devices and supported by Internet of Things (IoT) technologies.
The availability of such sensor data cultivates a fertile environment for the development of novel information services addressing personalised citizen needs as well as city planning and management and environmental decision making requirements. The seminar will provide an overview over the state-of-the-art in environmental monitoring today and over sensor and modelling technologies for low-cost ubiquitous monitoring as well as indicate novel EI service characteristics and future markets based on these technologies.
For registration, please go to auws.au.dk/NetMon
For further information, please contact Prof. Ole Hertel at Aarhus University, +45 30 18 31 14 or via oh@envs.au.dk